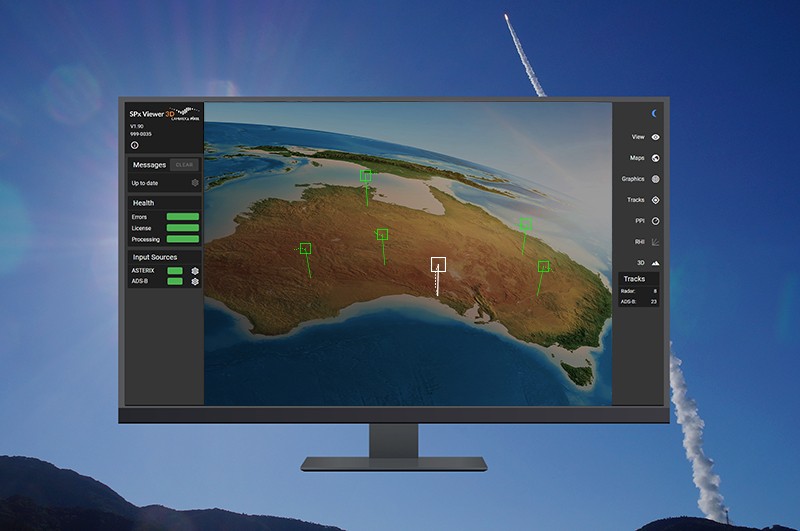 Click here to view image in High Resolution
Cambridge Pixel provides 3D tracking and visualization software to Southern Launch.
---
Cambridge Pixel is supplying visualization software that will support rocket launches from Australia. Adelaide-based Southern Launch, a bespoke space launch service provider, will use Cambridge Pixel to assist with the visualization of tracking data from rockets launched from their two launch facilities in South Australia.
Southern Launch uses several radars including a RADA ieMHR 3D radar to track the position of vehicles launched from their two launch facilities. The RADA radar provides data in the form of track reports using RADA's own proprietary data format. To display this data, Cambridge Pixel's solution first converts it using their SPx Track Manager software, which was specifically enhanced for this project.
Once converted, the track reports are supplied to the web-based SPx Viewer-3D application. This provides multiple views of the rocket's trajectory, including conventional 2D and 3D views with a map or terrain underlay and range-height indication (RHI). It also displays other details, including point of origin (POO) and point of impact (POI) coordinates. SPx Viewer-3D also displays target positions from Marine AIS Transponders to support over-water operation.
The supplied system also allows the automatic steering of video cameras to follow the position of the rocket during flight using Cambridge Pixel's SPx Camera Manager application. Finally, all radar track data, AIS positions and camera video streams are captured by Cambridge Pixel's RDR multichannel recording software.
Rob Baker, Flight Safety Specialist at Southern Launch, said, "We contacted Cambridge Pixel because of their 3D track visualization capability and their ability to quickly incorporate support for track data from new manufacturers. Support for camera control and data recording is a very useful addition to these core capabilities."
Andrew Haylett, Principal Engineer at Cambridge Pixel, commented, "Our SPx Viewer-3D software was designed exactly for this type of application, and we were able to support a new radar protocol easily due to our modular design approach. We are excited to be supporting Southern Launch with software solutions as they continue to develop their space launch capabilities."
Back to Listing