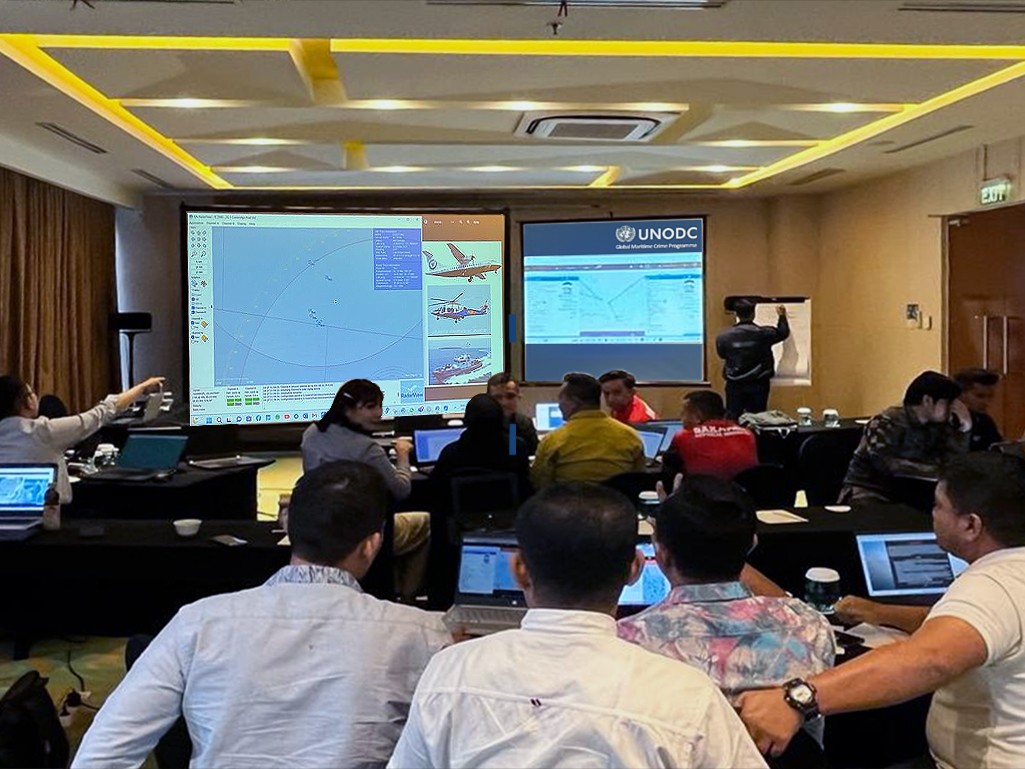 Click here to view image in High Resolution
United Nations Office on Drugs and Crime (UNODC) procured SPx Radar Simulator and RadarView display software for classroom training sessions to counter maritime crime.
Tackling drug and contraband trafficking around the complex coastlines of Southeast Asian countries requires skilled personnel to be well-trained in maritime surveillance. With such unpredictable scenarios, simulation provides the perfect tool to allow operators to learn from previous events.
The Global Maritime Crime Programme of the United Nations Office on Drugs and Crime (UNODC-GMCP) Regional Office for Southeast Asia and the Pacific delivers maritime domain awareness (MDA) training to surveillance centre personnel of maritime law enforcement agencies such as Coast Guard Agencies. This training includes detection of anomalous behaviour of vessels of interest. To demonstrate realistic scenarios as well as potential future ones during training sessions, GMCP procured Cambridge Pixel's SPx Radar Simulator and RadarView display software.
SPx Radar Simulator allows the instructor to create target motion profiles for a scenario representing, for example, smugglers trying to evade detection amongst regular vessel traffic.
To show the resultant radar video and target data in a typical, high-performance radar operator application, UNODC-GMCP uses Cambridge Pixel's RadarView display software as a training display. RadarView displays maps overlaid with radar video, tracks and AIS targets, in this case generated by SPx Radar Simulator, which can also feed to third party applications on the network in open formats such as ASTERIX.
David Johnson, managing director of Cambridge Pixel, said "We are extremely proud to be supporting efforts of the Global Maritime Crime Programme (GMCP) of UNODC to counter illicit activity at sea in the Southeast Asian region. We look forward to further opportunities to cooperate with the UN agencies to improve maritime law enforcement at sea."