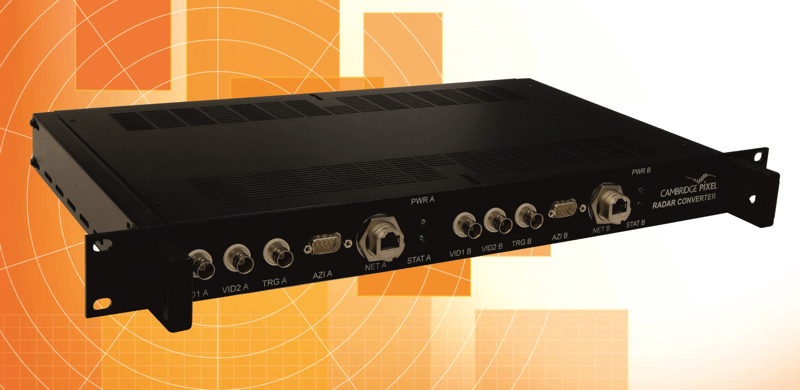 Click here to view image in High Resolution
Compact, low power, dual channel radar converter provides radar-to-network (ASTERIX CAT-240) conversion on two independent channels
New unit offers a cost-effective way of importing legacy data from two radars into a modern display such as on a naval ship or in an air traffic control application
CAMBRIDGE, United Kingdom, January 25th, 2018 - Cambridge Pixel, a supplier of radar display, tracking and recording sub-systems, has introduced a 1U 19" rack-mount dual channel radar signal converter.
The new compact and low-power unit offers radar-to-network conversion on two independent channels and provides a cost-effective way of importing legacy data from two radars into a modern display such as on a naval ship or in an air traffic control application.
The dual channel radar converter accepts radar signals as video, trigger and azimuth data in the form of ACP/ARP pulses. The radar video is digitised, processed and converted into network packets in standard ASTERIX CAT-240 format.
The radar converter provides a very flexible radar interface that can support a wide range of signal types and voltages to allow interfacing to different radars including those from Furuno, JRC, Kelvin Hughes, Koden, Raytheon, Sperry and Terma, as well as specialist military radars.
The new rack-mount unit comprises two of Cambridge Pixel's HPx-346 radar-to-network cards featuring a combined ARM/FPGA system-on-chip processor to handle the radar acquisition and data conversion. Other packaging options are available including support for additional channels in a single enclosure if required.
David Johnson, CEO, Cambridge Pixel, said: "We have developed our dual channel radar converter for customers – typically in the naval or ATC market - that have two legacy radars that they want to convert and bring into their display system and that prefer the simplicity, convenience and cost advantages of a rack-mount solution."
Cambridge Pixel's significant experience in radar interfacing allows the radar converter to receive data from many different sensor types with both analogue and digital video interfaces. Set-up of the unit is through a web-based interface to allow the system to be configured for 'switch-on-and-go' operation.
In addition to the 1U 19" rack-mount solution, this radar conversion capability can be provided by Cambridge Pixel as a OEM card solution or as a small-form-factor single channel package.
Cambridge Pixel's radar technology is used in naval, air traffic control, vessel traffic, commercial shipping, security, surveillance and airborne radar applications. Its systems have been implemented in mission critical applications with companies such as BAE Systems, Frontier Electronic Systems, Lockheed Martin, Barco Defence, Blighter Surveillance Systems, Exelis, Kelvin Hughes, Navtech Radar, Raytheon, Royal Thai Air Force, Saab, Hanwha, Sofresud and Tellumat.
Media contact:
Martin Brooke (for Cambridge Pixel)
Martin Brooke Associates
Tel: +44 (0) 1223 882174
Email: [email protected]
Back to Listing